For every genre of music, there is a perfect strain to pair it with.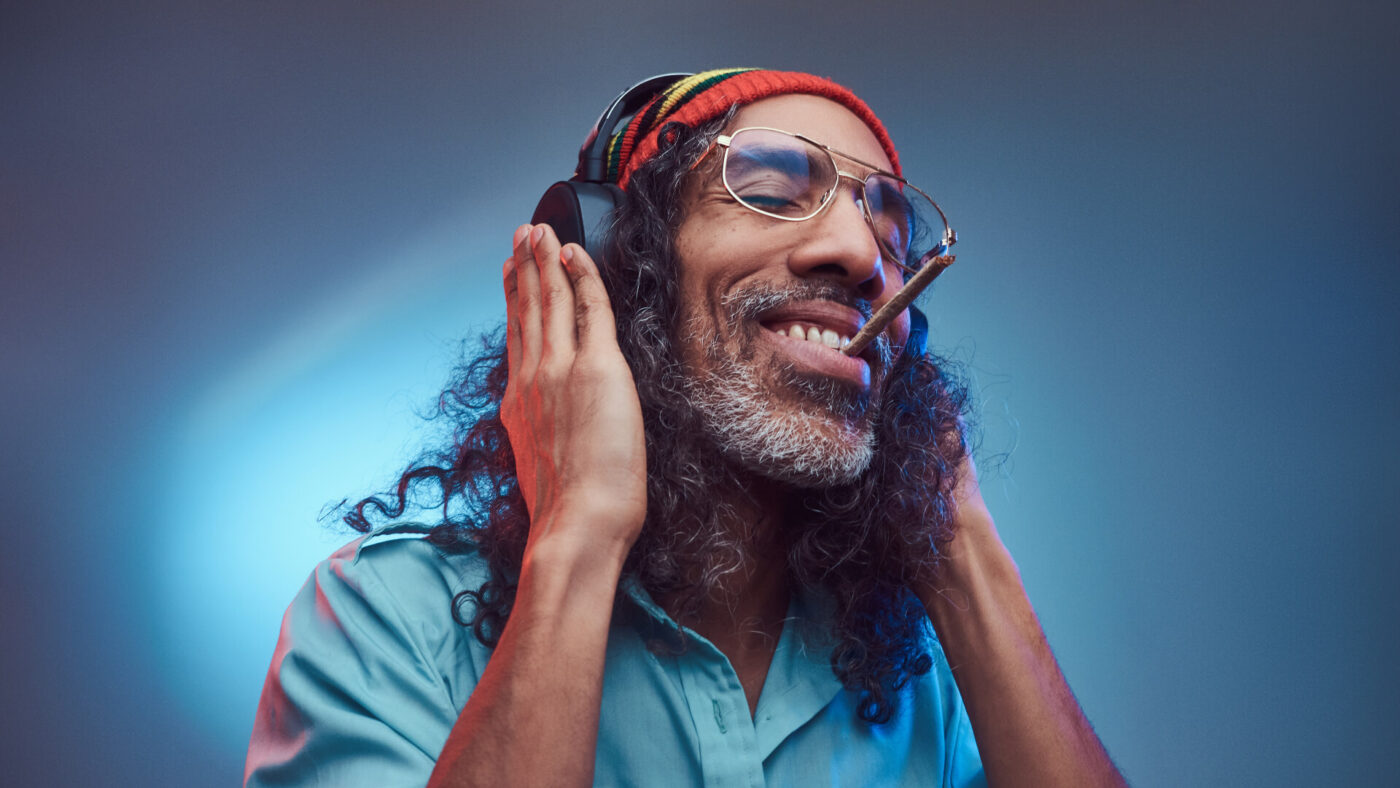 The first time you smoke some weed and listen to music can be like discovering a new realm of enjoyment. The instruments sound clearer, the arrangements feel stronger, and the lyrics hit deeper, even for songs you may have heard a hundred times before. Weed can enhance your music listening experience, whether it's rap, rock, jazz or classical. It's why some albums, like Smoker's Delight by DJ Kicks or Dopesmoker by Sleep, are made specifically for listening to after blazing up. While most weed strains give those tunes pumping through your speakers a little extra umph, other strains can turn that dial all the way up to 11 and beyond. Here's our list of the best weed strains to enhance your music experience by genre, including some artist and album suggestions to get you started.
Best Weed Strain for Rock Music
Blue Dream
One of the most popular weed strains in the world, Blue Dream's motivating, energizing effects get your fists pumping for some good old fashioned rock and roll. Whether jamming out on your headphones or at a show, Blue Dream's cerebral, euphoric effects will have your body and your mind primed to rock out to blazing guitar riffs, heavy drums solos, and belted-out lyrics.
Blue Dream is a classic choice to smoke when you'd like to dive into a night of rock n' roll records.
You'll be feeling so good you may just find yourself singing along at the top of your voice and swaying like you're on the center stage. Artists: Journey, Led Zeppelin, Foo Fighters, Greta Van Fleet, Jack White Start With This Album: Led Zeppelin 4
Best Weed Strain for Psychedelic Rock
Gelato
The Gelato strain is one of those weed strains seemingly bred for musical appreciation.
If you're looking for a trippy high to match your psychedelic rock music, Gelato is a great pick. Photo Credit: Shutterstock
The Gelato strain's effects let you sit back, close your eyes, and let those prolonged solos, trippy lyrics, and complex orchestrations carry your mind to another place. Artists: Pink Floyd, The Doors, Jimi Hendrix, Flaming Lips, Radiohead Start With This Album: Dark Side of the Moon – Pink Floyd
Best Weed Strain for Techno/Electronica
Mimosa
The Mimosa strain may sound ideal for an overpriced late breakfast/early lunch with friends, but this weed strain's bubbly, sweet, and euphoric effects won't quit that early in the day. The Mimosa strain charges you up with a bright, happy energy that makes you want to move your body and get social.
Mimosa provides an energetic high that'll have you dancing the night away at your favorite electronica show. Photo Credit: Shutterstock
That's why it pairs so well with electronica's dance-y, driving beats. Like some other things techno is known for, Mimosa may cause dry mouth, so bring plenty of water. Suggested Artists: Ritchie Hawtin, Carl Cox, Deborah de Luca, ANNA Start With This Album: Psychedelic Permadrunk – Da Bears
Best Weed Strain for Heavy Metal Music
Green Crack
Green Crack is a great go-to strain when you are looking to get pumped up on punk rock.
That's why if you're looking for loud guitars, speedy drums, and screaming vocals, Green Crack will match you to the same energy. This strain also works great for punk rock. Artists: Pantera, Gojira, Tool, Motorhead Start With This Album: Aenema – Tool
Best Weed Strain for Reggae Music
Lamb's Bread
Lamb's Bread was first cultivated in Jamaica and couldn't be a better pair for reggae.
Lamb's Bread is a breath of fresh air, clearing out any mental cobwebs and refreshing your perspective while also letting you relax and groove along to songs of love, protest, life, and rebellion. Artists: Bob Marley, Sister Nancy, Jimmy Cliff, Bunny Wailer, Toots & The Maytals Start With This Album: Uprising – Bob Marley and the Wailers
Best Weed Strain for Pop Music
Strawberry Cough
You'll be singing along to all your favorite pop songs when you toke on Strawberry Cough.
When all you're looking for is something to bring you up with a catchy, irrepressible hook, look no further than the "Top 40". Combine the two and you can't help dancing and singing along to music designed to make you feel good. Artists: Lizzo, Taylor Swift, Katie Perry, Justin Timberlake, Bruno Mars Start With This Album: Cuz I Love You – Lizzo
Best Weed Strain for R&B Music
Granddaddy Purps
Granddaddy Purps is known for its intense body high which makes all your R&B music flow that much more.
This gets you feeling a dreamy, syrupy flow through your entire body that'll have you feeling every silky lyric and slow jam. Artists: Al Green, Sam Cooke, Prince, Erika Badu, Whitney Houston Start With This Album: Voodoo – D'Angelo
Best Weed Strain for Hip Hop
OG Kush
OG Kush is a great strain when you're listening to Hip Hop beats with your friends .
This Kush is a well-loved hybrid that helped to fuel the West Coast hip hop sound in the 1990s. Artists: Dr. Dre, Snoop Dogg, Wiz Khalifa, De La Soul, MF Doom Start With This Album: The Chronic – Dr. Dre
Conclusion
With the right weed strains, you may experience the music you love in a new way, or enhance your enjoyment of an album you haven't heard in a long time. Like musical preference, the best weed strains for you really depend on your personal taste. After all, that's the great thing about both music and weed strains. Something that's available to so many can still seem so personal.
Frequently Asked Questions
What Strain is Best for Listening to Music?
There are many weed strains that are great for listening to music. It really depends on the type of music you're listening to and your own preferences. We recommend trying Mimosa, Gelato, Lamb's Bread, OG Kush, Granddaddy Purple, Northern Lights, or Strawberry Cough.
Is Indica Good for Listening to Music?
Indica weed strains are great for listening to music, especially rhythmic, bass heavy music like Hip Hop, R&B, and Reggae,OG Kush, and Afghani.